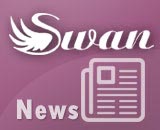 Over an 11 year period, average serum concentration of 25-hydroxyvitamin D (25OHD) increased 16.2 nmol/L (6.5 ng/mL) in a cohort of midlife women followed longitudinally through the SWAN Study.
The American Heart Association recently released an important scientific statement entitled "Menopause Transition and Cardiovascular Disease Risk: Implications for Timing Early Prevention".
In an article from Everyday Health, SWAN results of racial and ethnic disparities in menopause are discussed.
SWAN Researchers recognized for paper published in Menopause in 2019.
While the possibility of this health issue goes up after menopause, that doesn't mean you can't reduce your risk.
Researchers analyzed blood tests conducted on 1,537 women between the ages of 42 and 63. The long-term SWAN study monitored changes in the women's health as they went through the menopausal transition.
Four SWAN investigators assumed leadership positions of the North American Menopause Society (NAMS) for 2019-2020.
Samar R. El Khoudary, PhD, from the University of Pittsburgh was recognized by The North American Menopause Society (NAMS).
A group of SWAN investigators led by Dr. Samar El Khoudary at the University of Pittsburgh have published a review of the SWAN results and progress in Menopause.
In a recent O Magazine article, SWAN was recognized as a major source of scientific knowledge about midlife women and menopause.
University of Michigan Epidemiology PhD student Alexis Reeves, MPH has been awarded a two-year F31 award from the National Institute of Aging.
Over an 11 year period, average serum concentration of 25-hydroxyvitamin D (25OHD) increased 16.2 nmol/L (6.5 ng/mL) in a cohort of midlife women followed longitudinally through the SWAN Study.
University Michigan graduate student, Alexis Reeves was selected by the Society of Epidemiologic Research (SER) to present at 2019 SER Student Workshop.
The relation between the menopause transition (MT) and changes in body composition or weight remains uncertain.
Midlife women transitioning to menopause may be able to lower their risk of developing heart disease and type 2 diabetes, if they exercise more or eat a lower calorie diet.
Alexis Nasr presented a poster at the American Heart Association's 26th annual Fellows Research Day at the University of Pittsburgh on January 12.
"Prevalence of Complementary and Alternative Medicine and Herbal Remedy Use in Hispanic and Non-Hispanic White Women: Results from the Study of Women's Health Across the Nation."
his paper reports that women with  higher levels of C-reactive protein (CRP) were more likely to experience premenstrual moodiness, cramps, backaches, weight gain and bloating and breast pain.
Congratulations to SWAN authors: Samar El Khoudary (pictured), Imke Janssen, Susan A. Everson-Rose, Lynda H. Powell, and Karen A. Matthews!
Congratulations to SWAN authors Arun S. Karlamangla (pictured), WeiJuan Han, Mei-Hua Huang, and Gail A. Greendale!
Endocrine Today is featuring a SWAN paper that was recently published in Diabetic Medicine.
Congratulations to SWAN authors Jennifer Karas Montez, Joyce T. Bromberger, Siobán D. Harlow, Howard M. Kravitz, and Karen A. Matthews!
Congratulations to SWAN Investigator Rebecca Thurston, Ph.D. who was awarded this year's Henry Burger Prize from the International Menopause Society.
Please join us in congratulating SWAN Investigator Dr. Deborah M. Mitchell, who is one of six recipients of the 2016 American Society for Bone and Mineral Research (ASBMR) Rising Star Award.
SWAN study findings about hot flashes was recently published in the New York Times diminishing the myth that hot- flashes last for only a few years.
Dr. Ellen Gold and colleagues recently published "The Relation of Inflammation to Premenstrual Symptoms" in the Journal of Women's Health.
Jelena Pavlovic's paper, "Are Drops in Estrogen Levels More Rapid in Women with Migraine?" was recently published in an online issue of Neurology, the medical journal of American Academy of Neurology.
Please join us in congratulating Dr. Nanette Santoro! She is the winner of the 2016 Laureate Award for Outstanding Mentorship given by the Endocrine Society. This is a tremendous honor and well-deserved
Samar El Khoudary selected to present manuscript at this year's "Best of JCEM 2016" oral session Samar was selected to present her JCEM (Journal of Clinical Endocrinology & Metabolism) manuscript entitled, "Cardiovascular Fat, Menopause, and Sex Hormones in Women:...
Study highlights importance of developing strategies to prevent future fractures after an initial wrist fracture occurs. Science Daily Date: November 10, 2015 Source: University of California - Los Angeles Health Sciences Summary: Postmenopausal women younger than age...
No increases seen in bone density, muscle mass or mobility, no matter the dose. WebMD News from HealthDay By Alan Mozes HealthDay Reporter MONDAY, Aug. 3, 2015 (HealthDay News) -- High doses of vitamin D do not appear to protect postmenopausal women from the dangers...
Late - and post-menopausal women have significantly greater volumes of fat around their hearts – a risk factor for heart disease – than their pre-menopausal counterparts, a University of Pittsburgh Graduate School of Public Health study has shown for the first time....
Women who experience more hot flashes, particularly while sleeping, during the menopause transition are more likely to have brain changes reflecting a higher risk for cerebrovascular disease, such as stroke and other brain blood flow problems, according to a pilot...
Large study finds no difference between women who took supplements and those who didn't. WebMD News from HealthDay By Robert Preidt HealthDay Reporter TUESDAY, June 2, 2015 (HealthDay News) -- Vitamin D and calcium supplements don't help ease the symptoms of...
Newly published SWAN research shows that urinary incontinence is problematic for many women over 40. By Sammy Caiola scaiola@sacbee.com Women who experience leakage from their bladders or have the "got to go" feeling at inconvenient times are not alone, a new study...
New evidence published today in the Cochrane Library shows that hormone replacement therapy (HRT) does not protect post-menopausal women against cardiovascular disease, and may even cause an increased risk of stroke. Press contact: Jo Anthony Evelyn Martinez Senior...
Newly published SWAN research shows that menopausal symptoms may continue for up to 14 years. By PAM BELLUCK Conventional wisdom has it that hot flashes, which afflict up to 80 percent of middle-aged women, usually persist for just a few years. But hot flashes can...
As hormone levels change during the transition to menopause, the quality of a woman's cholesterol carriers degrades, leaving her at greater risk for heart disease, researchers at the University of Pittsburgh Graduate School of Public Health discovered. The...
The Michigan site will be hosting two (2) SWAN Night-Out events on November 7th and November 19th. Dr. Sioban Harlow and the SWAN team will highlight SWAN contributions to science and update the attendees on the future direction of the study. In November, the Michigan...
(Reuters Health) - Despite evidence suggesting that women whose uterus has been removed may be more likely to experience heart troubles, a new study finds that the usual signs of heart disease risk are not more severe in middle-aged women after hysterectomy. After...
A new formula to predict a woman's final menstrual period could help menopausal women fight bone loss and reduce their heart disease risk, a new study reports. The formula is based on the changing levels of two hormones: estradiol, which is found in the ovaries; and...
Substantial changes in the diameter and thickness of a section of carotid artery in perimenopausal women may indicate a higher risk of developing cardiovascular disease, the leading cause of death in women, according to Pitt researchers. Epidemiologists studied 249...